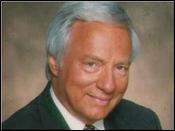 NEIL CHAYET 
The familiar opening line "This is Neil Chayet Looking at the Law" has greeted listeners around the nation every day for the past 40 years.  Since April 1, 1976, Neil has written and broadcast more than 10,000 one-minute features, reporting on legal decisions in an entertaining and informative fashion.  As a wordsmith with a flair for puns and quotes, Neil often injects humor into his programs to the delight of millions of listeners.  Looking at the Law™ is heard on Boston's WBZ, NewsRadio 1030, and is distributed nationwide by the CBS Radio Network and worldwide by the Armed Forces Radio Network.     
Neil began his radio career as a result of serving on the psychiatric task force for the Boston Strangler investigation and his work towards drafting the nation's first community mental health law. Neil has also appear frequently on television, including a regular "Looking at the Law" segment on WBZ-TV in Boston. He has also been a guest on national TV shows, including Oprah Winfrey, Montel Williams, Dick Cavett, and Nightline. Neil is an accomplished public speaker and has delivered hundreds of speeches on law, medicine, media and politics. He is the author of four books* and more than 60 chapters and articles.
A graduate of Tufts University and Harvard Law School, Neil is a member of the faculty of the Harvard Medical School in the Department of Psychiatry and a Consultant to McLean Hospital in Belmont, Massachusetts.  He is also a member of the faculty of the Cummings School of Veterinary Medicine at Tufts, and serves on the Board of Advisors of the Tisch College of Citizenship and Public Service at Tufts.  Neil has served on the boards of many nonprofit and community organizations, including the Whitehead Institute for Biomedical Research at M.I.T., the Board of Visitors to the Phillips Library of the Peabody Essex Museum, and the Massport Security Advisory Council.  He is an active member of the Harvard Law School Association and co-chairs its Senior Advisory Network.  
Neil is President of Chayet Communications Group, Inc., which specializes in the building of  "deep coalitions" to address difficult issues of public policy, including health care reform, mental health services, energy and communications.  He is also teaching a course for undergraduate students at Tufts University, entitled "Conflict! New Ways of Thinking About Life's Challenges," which contemplates the intersection of law, psychology, and spirituality, and is designed to help students understand and manage the root causes and fundamental building blocks of anger and conflict.  
Neil has three children and five grandchildren and enjoys the hobbies of sailing, fishing, cruising the coastal waters of New England, and model railroading.  Neil and his wife Martha, along with their two cats, Dolly and Madison, live in Salem, Massachusetts in the recently restored Joseph Story House, built in 1811 for U.S. Supreme Court Justice Story, and listed on the National Register of Historic Landmarks.   
*Including Looking at the Law and Legal Implications of Emergency Care.